Our Story
The Seattle SeaChordsmen normally rehearse Tuesday nights, 7pm - 10pm, in our rehearsal room on the basement level of Queen Anne Baptist Church, 2011 1st Ave. N. Seattle, WA 98109. Guest are always welcome!  Due to Covid-19 we require proof of vaccination and are rehearsing outside by the front door.  Email [email protected] for more information.
The Seattle SeaChordsmen chapter of the Barbershop Harmony Society (formerly the Society for the Preservation and Encouragement of Barbershop Singing in America) was chartered on April 14, 1949, and incorporated on October 2, 1953. Since then, the Seattle Seachordsmen have been bringing the joy of barbershop harmony to music lovers in the area. As Evergreen District champions for four consecutive years between 1969 and 1972, the Seachordsmen represented the Evergreen District at International conventions held in St. Louis, Atlantic City, Atlanta, and Portland, Oregon. Along with other chapters in the Puget Sound area, the Seattle chapter co-hosted the International convention here in 1983.
This chapter produced six District champion quartets: Queen City Four, 1949; Puget Sounders, 1951; Varsitones, 1953; Schoolmasters, 1956; Ford-O-Matics, 1957; and University Way, 1979. The Ford-O-Matics represented the District at the International convention. And Seachordsman Bob Mahony was a member of The Close Harmony Tradition, International Senior Quartet champions in 1987. The chapter currently boasts seven chapter quartets.
As a chorus, the SeaChordsmen recently finished in 7th place and received the Most Improved Chorus Award at the October 2015 Evergreen District Convention held in Spokane, WA.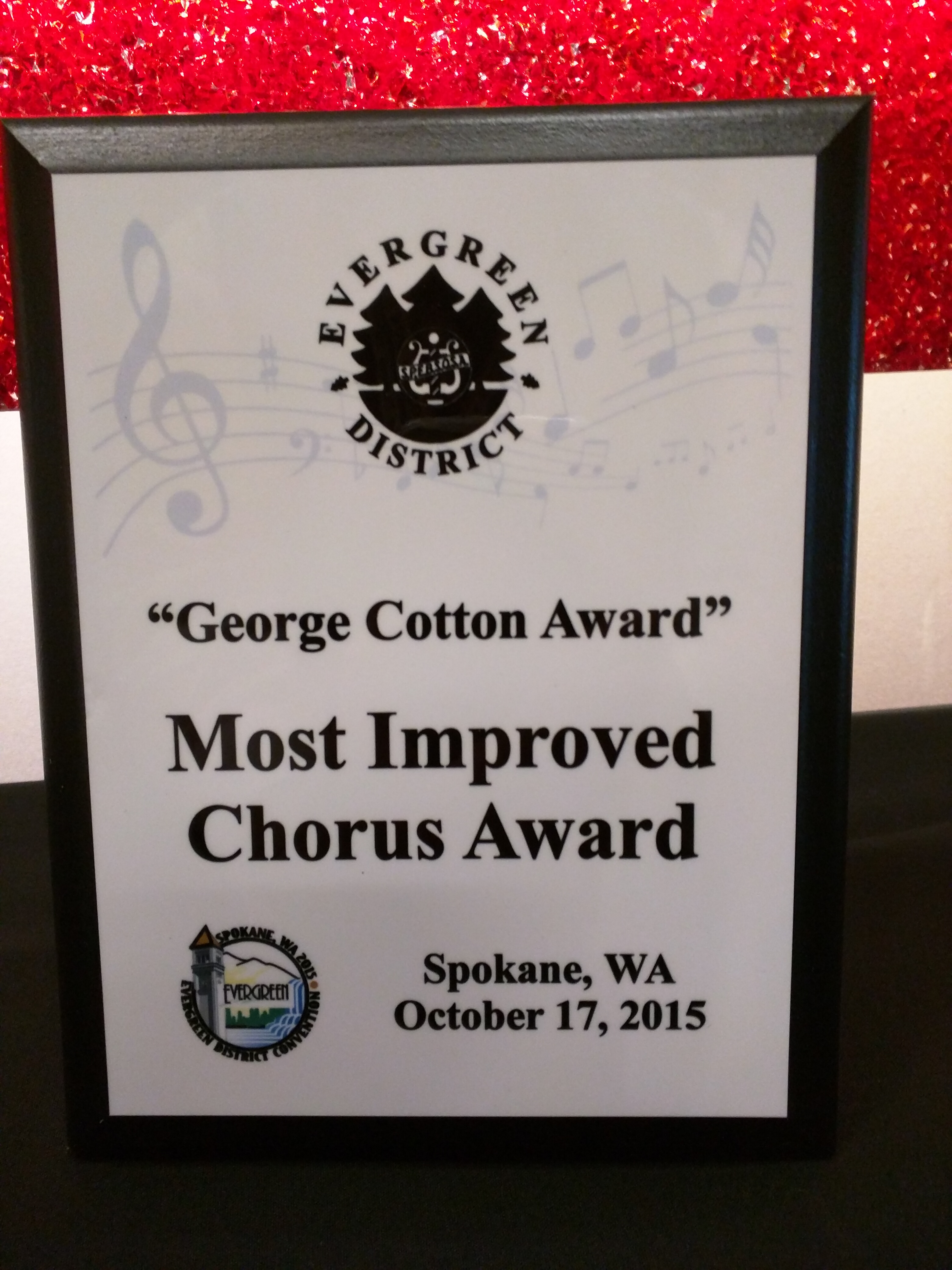 Proud as they are of their contest appearances, Seachordsmen get their greatest enjoyment from public performances. The singing Valentine program was inaugurated over a decade  ago, and last February five quartets delivered more than 85 love-ly messages. The chorus has been a regular performer at the Folklife Festival for several years, and during the Christmas season the chorus participates in the Figgy Pudding songfest in downtown Seattle, where they are past recipients of the People's Choice award. The Seachordsmen have appeared at Sonics and Mariners games, made appearances at the Vashon Island Strawberry Festival, and, in addition to presenting two wonderful shows each year, provide entertainment for various social and business gatherings throughout the Seattle area.
We are an "everyman" chorus, with no auditions. We welcome all men to our chorus, regardless of singing ability. If you can sing, we will help you improve; if you are new to singing, we will support you in understanding and best using your voice. And we would love to have you be a part of our rehearsals. Come join us on any Tuesday evening!
The Seattle SeaChordsmen is a nonprofit 501(c)(3) tax-exempt organization, contributions to which are deductible to the extent permitted by Federal income tax laws.