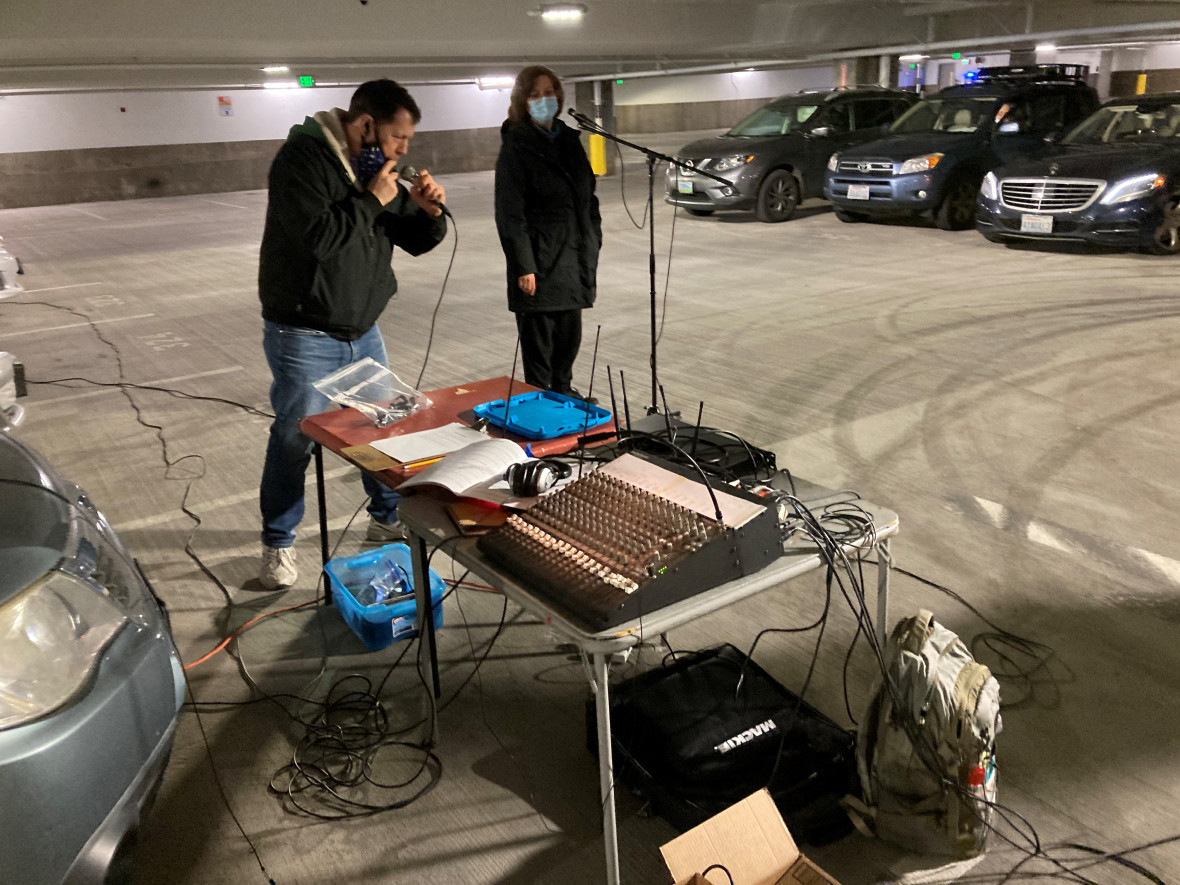 Carbershop live!
We now have a covered place to rehearse together until this pandemic is over.  Thanks to Sound Transit for working with us to think outside the box (or inside the garage, as it were) and let us use part of their Northgate station park and ride garage for Covid-safe in-car rehearsals.  In exchange, we will be performing for them when the light rail station opens for service in September.  A win-win!  Thanks again, Sound Transit.
Details of our in-car rehearsal logisitcs are discussed in another post.  Short version, we all (mostly) sit in the safety of our cars, have our own microphone to sing into, and listen to the combined ensemble over our car radio.  And it sounded pretty good!  Our directors stand in the middle where everyone can see them.  Just like a real rehearsal.  A couple of members stood outside their car, or because they arrived on foot.  Or their car battery died.  Those standing used a portable FM radio with earbuds or headphones instead.
Here are some pictures from our first such rehearsal on February 27, 2021, with 15 singers plus one of our directors, Elizabeth, with her own microphone.  After your poster, Chris, struggled for months to come up with a catchy name for this activity and only came up with "car chords,"  Elizabeth casually tossed off "carbershop" in an email.  That's why she gets the big bucks!
We set up cars facing each other so everyone has line of sight to a director in the middle.  Up to 18 cars can be arranged this way, and potentially another 6 on each end (the far wall and behind the photographer).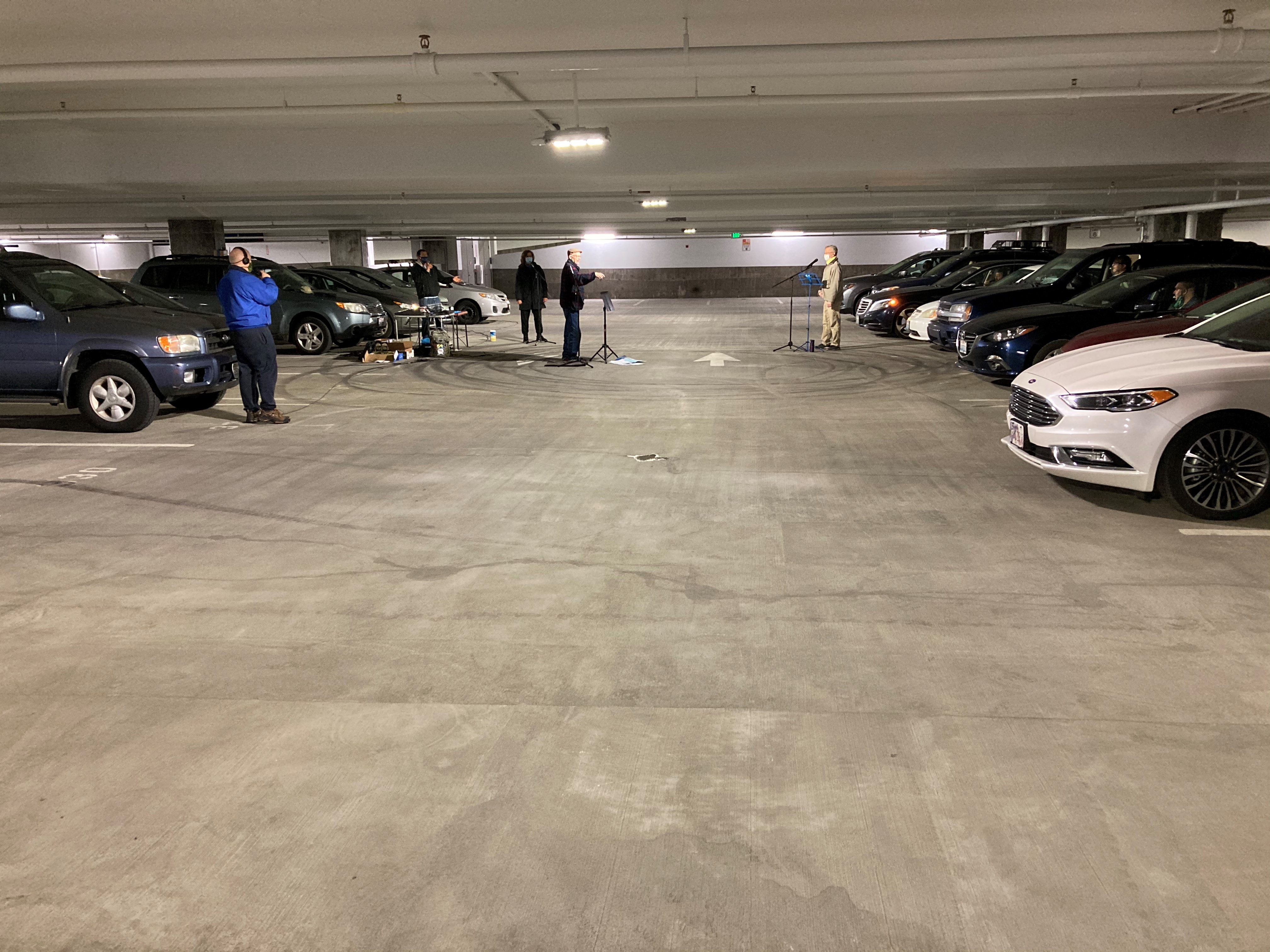 A short video showing the arrangement while everyone is singing: https://youtu.be/00bTu8-A74w.  You are only hearing the few folks standing outside their cars.
Here is another short video where you can hear the full mix, albeit with the videographer singing sort of dominant: https://youtu.be/BsHCNKdPO9k?t=21
One of the masterminds in his car.  Just visible if you know what to look for are two low power FM transmitters (FCC Part 15 legal!) on top of his car.  We may try to send only two parts to each one for "duet sectionals" someday, but this time they were both sending out the full mix.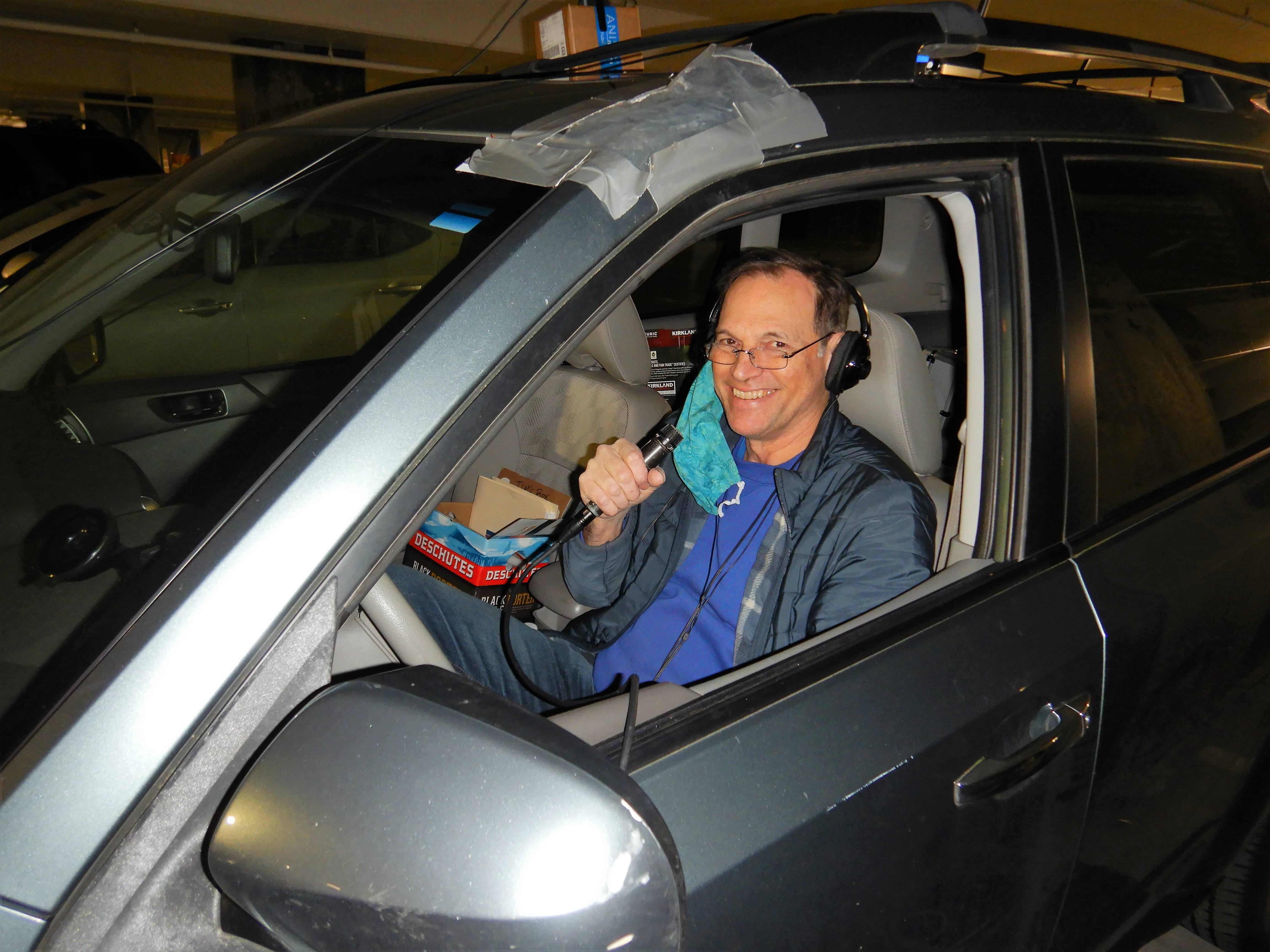 This time around we used all 16 channels on the mixer (to the left) with 8 wired mics and all 8 wireless mics (two 4 mic receivers to the right) patched into the mixer individually.  That is a look of terror realizing that everyone is showing up and almost none of those connections are hooked up yet!  Getting people configured quickly is an area to improve.  Everyone sings at different volumes and holds their microphones differently so doing a quick sound level check as microphones are assigned is important to have a decent mix.  The mixer allows us to assign each set of channels for a given part to its own fader.  This time, for example, 6 of the sixteen were basses, so as a group their level was lowered a bit so relative to other parts.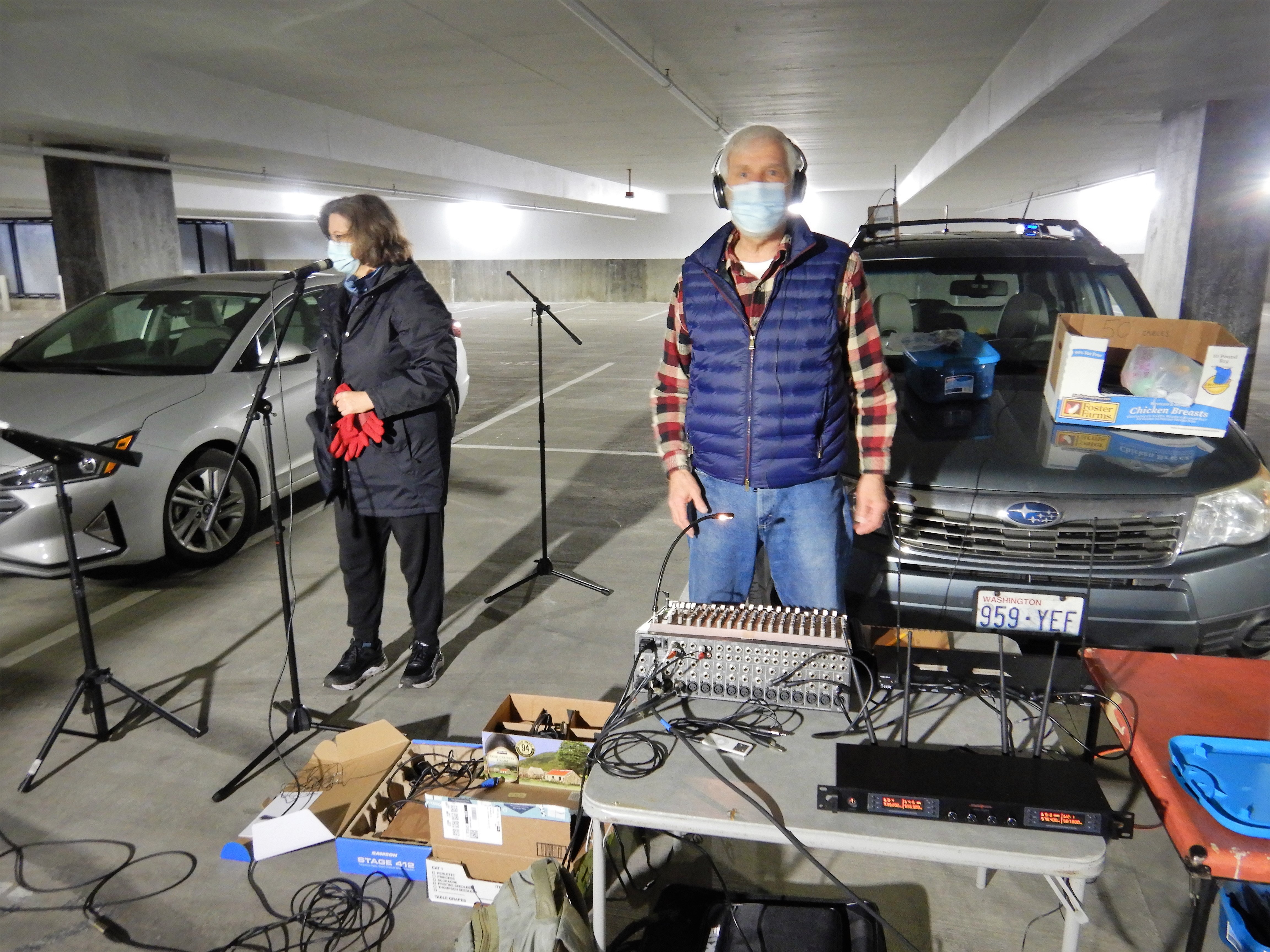 Happy to be harmonizing.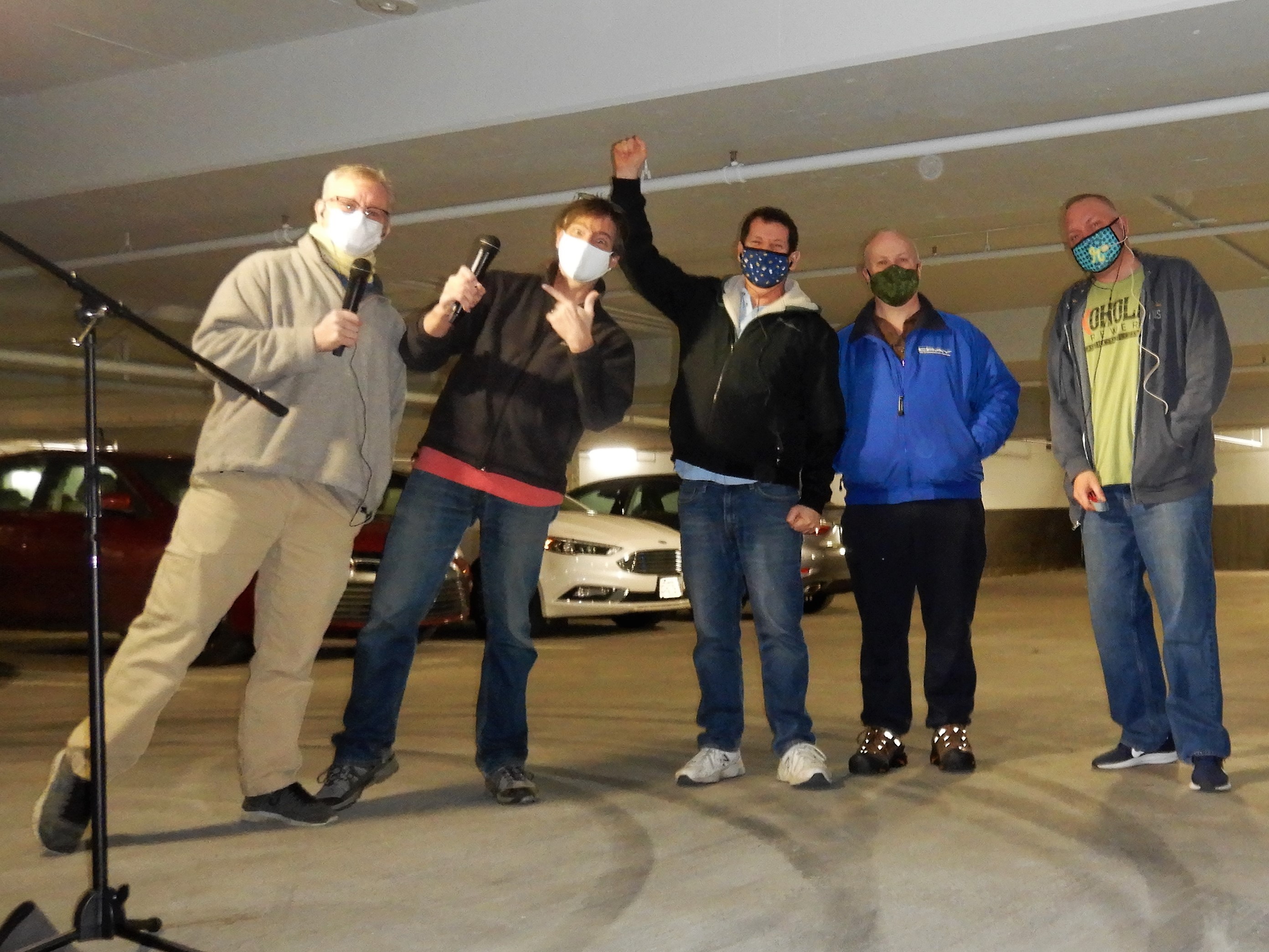 Again, posing for a picture before getting back into our cars and leaving.  A good time was had by all!